THE BRAND MAVERICK
CONSULTANT • COACH • MENTOR
About Désiré
Désiré transforms trailblazers
from
mehhh
to
HECK YEAH
.
Désiré is an international brand extraordinaire, marketing expert, consultant, live show host, podcaster, and entrepreneur
.
She
is industry and geographically agnostic
but works with service-focused B2B:

🚀 micro, small and medium businesses, entrepreneurs, consultants, coaches, and experts; and
🌱 budding

entrepreneurs, bootstrapp

ing startups, freelancers and aspiring consultants and experts.
She does both corporate and personal branding, as her approach is to make branding more humanised; therefore the principles are similar.
💥 TILT Creative Agency, her brand consultancy for service-focused B2B solo/entrepreneurs, consultants, startups, and micro, small and medium businesses, offers an intensive but low cost service to clarify your messaging, define your brand DNA, and hone your voice to increase your revenue, market visibility and competitive advantage.
💥 Her Brand Maverick Nexus sessions, include a low cost group option that is accessible to those who want to improve their life but cannot afford a consultant or mentor. There is a more involved level which includes a premium newsletter, bootcamps and 1:1 WhatsApp support.
She offers 3 brand booster programmes, online courses, a free brand audit, exclusive mastermind groups, and a brand monitoring service that ensures all of your hard work and investment stays on track.
💥 TILT.social, her free to use entrepreneur social network, is an extension of your Linkedin efforts, but without the pain of advertising and algorithm. Connect with over 10,000 like-minded people and promote your business and events to a curated audience – for FREE!
💥 Désiré also hosts three podcasts, the weekly Elevate your Brand session on Zoom, the Idea to Enterprise – Entrepreneur Think Tank live on LinkedIn; has an active Linkedin following of 23,000 and growing; with her TILT.social platform crossing 10,000 users in under four months of launch, a subscribed email list of over 14,000 and counting, and over 17,000 active and engaged WhatsApp connections.
Her content includes videos, podcasts and blogs, which you can find below.
Désiré's Personal Background
Born in the UK, raised in the Caribbean, of Indian heritage and married into a Persian family, Désiré's ability to draw upon cultural influence is what really sets her apart in a world of grey. She sees the world through a very unique lens, and that's what makes her such a powerful storyteller. Her passion is to help as many people as she can, with the thing she loves the most: branding.
Her 15+ year multifaceted experience gives her an edge that is sharper than most. Désiré's ability to code, strategise, write to an incredibly high standard, paint (modern, acrylic on canvas) and sketch logos – married with her insatiable hunger for learning and excitement to continuously challenge herself and push boundaries – makes her a true unicorn.
Désiré's early career was spent jumping from events, to photojournalism, and various positions in business (both corporate and retail), technology and marketing; aside from running her own company. Website development, blog writing, graphic design, digital marketing, social media marketing and branding are common themes throughout her career. Her knowledge spans across history, geography, culture, physics, neuroscience, business, psychology and philosophy, and her intuition on brand development and execution and natural instinct for business and what makes people tick makes her formidable. But her warm friendliness and kind demeanour make you feel right at home.
🦄 💥 🦄 💥 🦄
She offers a free brand self-audit for entrepreneurs on TILT.social.
And she offers free branding tips and advice, directly on WhatsApp.
The
TILT Creative
Alpha WOMAN
War of Words
Podcast
Turning trauma into strength.
Drawing blood from a stone.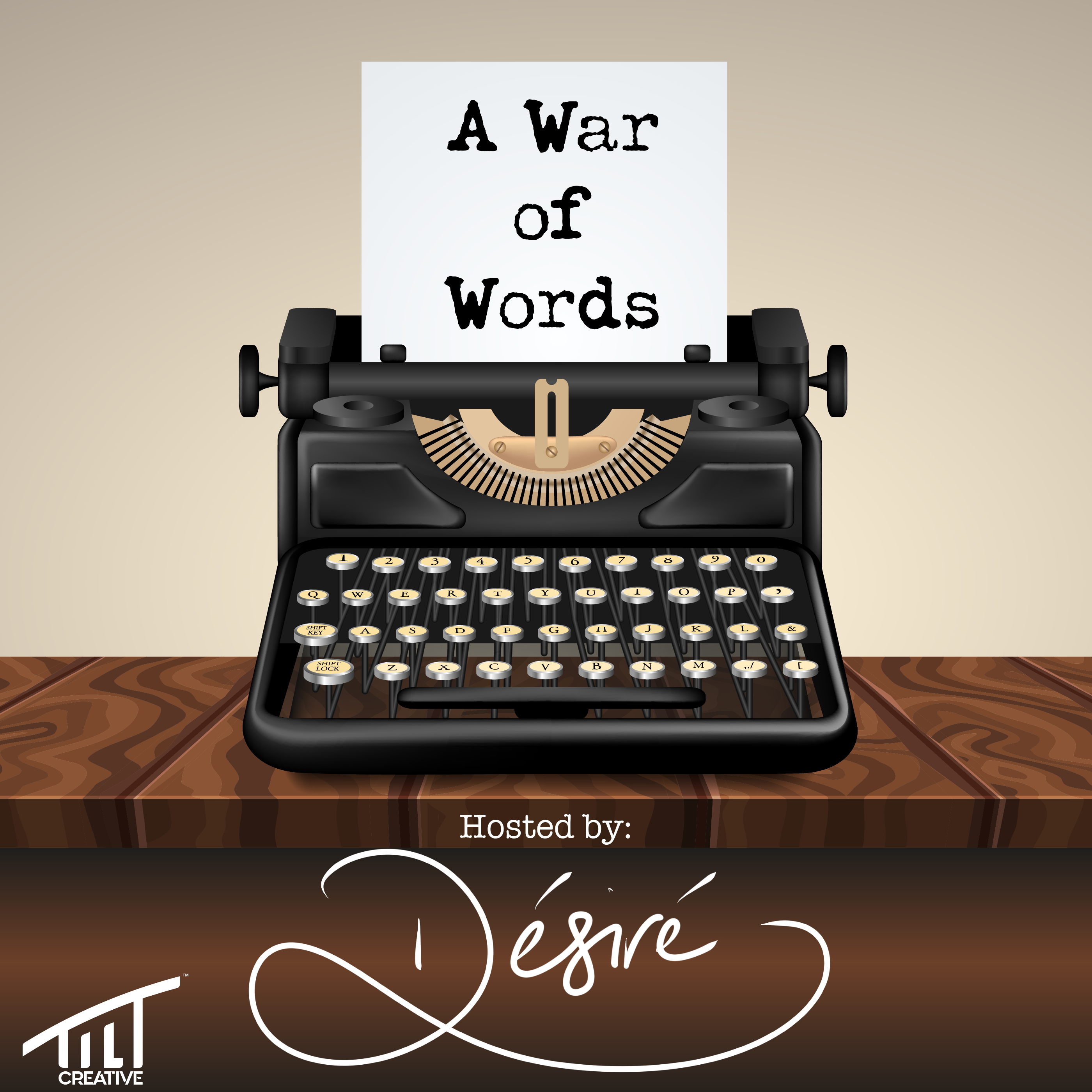 The TILT Creative Podcast has three segments:
The Daily TILT – very short bursts of advice for branding and marketing, and gold nuggets from conversations with Désiré.

The Entrepreneur Spotlight, our most popular segment, tells the story of an entrepreneur's journey, while showcasing their business.

The Failure Frontier — the stories of epic fails, gross miscalculations and nauseating snafus, and the acquired, albeit late, wisdom.
The stories of women from every corner of the world who triumphed in the face of adversity, discrimination, poverty, health issues and social pressures. It's time to embrace the ALPHA WOMEN of our world, and make them our leaders.
COMING SOON
The internal war of creatives, and their methods of persevering in the face of imposter syndrome, doubt and the burden of success.
COMING SOON
The
TILT Creative
War of Words
Alpha WOMAN
Blog
Idea2Enterprise Think Tank

Alpha WOMAN Show

TILT Brand Q&A session

Business Mastermind Group

TILT Networking
LIVE on TILT.social
September 2023
| Monday | Tuesday | Wednesday | Thursday | Friday | Saturday | Sunday |
| --- | --- | --- | --- | --- | --- | --- |
| | | | | Friday September 1 1 | Saturday September 2 2 | Sunday September 3 3 |
| Monday September 4 4 | Tuesday September 5 5 | Wednesday September 6 6 | Thursday September 7 7 | Friday September 8 8 | Saturday September 9 9 | Sunday September 10 10 |
| Monday September 11 11 | Tuesday September 12 12 | Wednesday September 13 13 | Thursday September 14 14 | Friday September 15 15 | Saturday September 16 16 | Sunday September 17 17 |
| Monday September 18 18 | Tuesday September 19 19 | Wednesday September 20 20 | Thursday September 21 21 | Friday September 22 22 | Saturday September 23 23 | Sunday September 24 24 |
| Monday September 25 25 | Tuesday September 26 26 | Wednesday September 27 27 | Thursday September 28 28 | Friday September 29 29 | Saturday September 30 30 | |
No events.
October 2023
Monday
Tuesday
Wednesday
Thursday
Friday
Saturday
Sunday

Sunday October 1 1

Monday October 2 2

Tuesday October 3 3

Wednesday October 4 4

Thursday October 5 5

Friday October 6 6

Saturday October 7 7

Sunday October 8 8

Monday October 9 9

Tuesday October 10 10

Wednesday October 11 11

Thursday October 12 12

Friday October 13 13

Saturday October 14 14

Sunday October 15 15

Monday October 16 16

3:00 pm – 4:00 pm 🔴 Branding Room

Tuesday October 17 17

3:00 pm – 4:00 pm 🟢 Marketing Room

Wednesday October 18 18

Thursday October 19 19

3:00 pm – 4:00 pm 🔵 Business Room

Friday October 20 20

3:00 pm – 4:00 pm 🟣 Ideation Room

Saturday October 21 21

Sunday October 22 22

Monday October 23 23

3:00 pm – 4:00 pm 🔴 Branding Room

Tuesday October 24 24

3:00 pm – 4:00 pm 🟢 Marketing Room

Wednesday October 25 25

Thursday October 26 26

3:00 pm – 4:00 pm 🔵 Business Room

Friday October 27 27

3:00 pm – 4:00 pm 🟣 Ideation Room

Saturday October 28 28

Sunday October 29 29

Monday October 30 30

3:00 pm – 4:00 pm 🔴 Branding Room

Tuesday October 31 31

3:00 pm – 4:00 pm 🟢 Marketing Room
November 2023
Monday
Tuesday
Wednesday
Thursday
Friday
Saturday
Sunday

Wednesday November 1 1

Thursday November 2 2

3:00 pm – 4:00 pm 🔵 Business Room

Friday November 3 3

3:00 pm – 4:00 pm 🟣 Ideation Room

Saturday November 4 4

Sunday November 5 5

Monday November 6 6

3:00 pm – 4:00 pm 🔴 Branding Room

Tuesday November 7 7

3:00 pm – 4:00 pm 🟢 Marketing Room

Wednesday November 8 8

Thursday November 9 9

3:00 pm – 4:00 pm 🔵 Business Room

Friday November 10 10

3:00 pm – 4:00 pm 🟣 Ideation Room

Saturday November 11 11

Sunday November 12 12

Monday November 13 13

3:00 pm – 4:00 pm 🔴 Branding Room

Tuesday November 14 14

3:00 pm – 4:00 pm 🟢 Marketing Room

Wednesday November 15 15

Thursday November 16 16

3:00 pm – 4:00 pm 🔵 Business Room

Friday November 17 17

3:00 pm – 4:00 pm 🟣 Ideation Room

Saturday November 18 18

Sunday November 19 19

Monday November 20 20

3:00 pm – 4:00 pm 🔴 Branding Room

Tuesday November 21 21

3:00 pm – 4:00 pm 🟢 Marketing Room

Wednesday November 22 22

Thursday November 23 23

3:00 pm – 4:00 pm 🔵 Business Room

Friday November 24 24

3:00 pm – 4:00 pm 🟣 Ideation Room

Saturday November 25 25

Sunday November 26 26

Monday November 27 27

All Day PRE-LAUNCH

Monday November 27 – Friday December 1

PRE-LAUNCH

2:00 pm – 3:00 pm ‼️ Free Brand Coaching
3:00 pm – 4:00 pm 🔴 Branding Room

Tuesday November 28 28

All Day PRE-LAUNCH

Monday November 27 – Friday December 1

PRE-LAUNCH

3:00 pm – 4:00 pm 🟢 Marketing Room

Wednesday November 29 29

All Day PRE-LAUNCH

Monday November 27 – Friday December 1

PRE-LAUNCH

Thursday November 30 30

All Day PRE-LAUNCH

Monday November 27 – Friday December 1

PRE-LAUNCH

3:00 pm – 4:00 pm 🔵 Business Room
December 2023
Monday
Tuesday
Wednesday
Thursday
Friday
Saturday
Sunday

Friday December 1 1

All Day PRE-LAUNCH

Monday November 27 – Friday December 1

PRE-LAUNCH

3:00 pm – 4:00 pm 🟣 Ideation Room

Saturday December 2 2

Sunday December 3 3

Monday December 4 4

All Day LAUNCH WEEK

Monday December 4 – Friday December 8

LAUNCH WEEK

2:00 pm – 3:00 pm ‼️ Free Brand Coaching
3:00 pm – 4:00 pm 🔴 Branding Room

Tuesday December 5 5

All Day LAUNCH WEEK

Monday December 4 – Friday December 8

LAUNCH WEEK

3:00 pm – 4:00 pm 🟢 Marketing Room

Wednesday December 6 6

All Day LAUNCH WEEK

Monday December 4 – Friday December 8

LAUNCH WEEK

Thursday December 7 7

All Day LAUNCH WEEK

Monday December 4 – Friday December 8

LAUNCH WEEK

3:00 pm – 4:00 pm 🔵 Business Room

Friday December 8 8

All Day LAUNCH WEEK

Monday December 4 – Friday December 8

LAUNCH WEEK

3:00 pm – 4:00 pm ‼️ 2024 MARKETING GOALS/RESOLUTIONS
3:00 pm – 4:00 pm 🟣 Ideation Room

Saturday December 9 9

Sunday December 10 10

Monday December 11 11

1:00 pm – 2:00 pm ‼️ Free Brand Coaching
3:00 pm – 4:00 pm 🔴 Branding Room

Tuesday December 12 12

3:00 pm – 4:00 pm 🟢 Marketing Room

Wednesday December 13 13

Thursday December 14 14

3:00 pm – 4:00 pm 🔵 Business Room

Friday December 15 15

3:00 pm – 4:00 pm ‼️ BRAND REFRESHER for SMEs
3:00 pm – 4:00 pm 🟣 Ideation Room

Saturday December 16 16

Sunday December 17 17

Monday December 18 18

1:00 pm – 2:00 pm ‼️ Free Brand Coaching
3:00 pm – 4:00 pm 🔴 Branding Room

Tuesday December 19 19

3:00 pm – 4:00 pm 🟢 Marketing Room

Wednesday December 20 20

Thursday December 21 21

3:00 pm – 4:00 pm 🔵 Business Room

Friday December 22 22

3:00 pm – 4:00 pm 🟣 Ideation Room

Saturday December 23 23

Sunday December 24 24

Monday December 25 25

2:00 pm – 3:00 pm ‼️ Free Brand Coaching
3:00 pm – 4:00 pm 🔴 Branding Room

Tuesday December 26 26

3:00 pm – 4:00 pm 🟢 Marketing Room

Wednesday December 27 27

Thursday December 28 28

3:00 pm – 4:00 pm 🔵 Business Room

Friday December 29 29

3:00 pm – 4:00 pm 🟣 Ideation Room

Saturday December 30 30

Sunday December 31 31
January 2024
Monday
Tuesday
Wednesday
Thursday
Friday
Saturday
Sunday

Monday January 1 1

2:00 pm – 3:00 pm ‼️ Free Brand Coaching
3:00 pm – 4:00 pm 🔴 Branding Room

Tuesday January 2 2

3:00 pm – 4:00 pm 🟢 Marketing Room

Wednesday January 3 3

Thursday January 4 4

3:00 pm – 4:00 pm 🔵 Business Room

Friday January 5 5

3:00 pm – 4:00 pm 🟣 Ideation Room

Saturday January 6 6

Sunday January 7 7

Monday January 8 8

2:00 pm – 3:00 pm ‼️ Free Brand Coaching
3:00 pm – 4:00 pm 🔴 Branding Room

Tuesday January 9 9

3:00 pm – 4:00 pm 🟢 Marketing Room

Wednesday January 10 10

Thursday January 11 11

3:00 pm – 4:00 pm 🔵 Business Room

Friday January 12 12

3:00 pm – 4:00 pm 🟣 Ideation Room

Saturday January 13 13

Sunday January 14 14

Monday January 15 15

2:00 pm – 3:00 pm ‼️ Free Brand Coaching
3:00 pm – 4:00 pm 🔴 Branding Room

Tuesday January 16 16

3:00 pm – 4:00 pm 🟢 Marketing Room

Wednesday January 17 17

Thursday January 18 18

3:00 pm – 4:00 pm 🔵 Business Room

Friday January 19 19

3:00 pm – 4:00 pm 🟣 Ideation Room

Saturday January 20 20

Sunday January 21 21

Monday January 22 22

2:00 pm – 3:00 pm ‼️ Free Brand Coaching
3:00 pm – 4:00 pm 🔴 Branding Room

Tuesday January 23 23

3:00 pm – 4:00 pm 🟢 Marketing Room

Wednesday January 24 24

Thursday January 25 25

3:00 pm – 4:00 pm 🔵 Business Room

Friday January 26 26

3:00 pm – 4:00 pm 🟣 Ideation Room

Saturday January 27 27

Sunday January 28 28

Monday January 29 29

2:00 pm – 3:00 pm ‼️ Free Brand Coaching
3:00 pm – 4:00 pm 🔴 Branding Room

Tuesday January 30 30

3:00 pm – 4:00 pm 🟢 Marketing Room

Wednesday January 31 31
February 2024
Monday
Tuesday
Wednesday
Thursday
Friday
Saturday
Sunday

Thursday February 1 1

3:00 pm – 4:00 pm 🔵 Business Room

Friday February 2 2

3:00 pm – 4:00 pm BRAND REFRESHER for SMEs
3:00 pm – 4:00 pm 🟣 Ideation Room

Saturday February 3 3

Sunday February 4 4

Monday February 5 5

All Day 🔥 SPARK BRAND BOOSTER (12 WEEKS)

Monday February 5 – Friday April 26

🔥 SPARK BRAND BOOSTER (12 WEEKS)

2:00 pm – 3:00 pm ‼️ Free Brand Coaching
3:00 pm – 4:00 pm 🔴 Branding Room

Tuesday February 6 6

All Day 🔥 SPARK BRAND BOOSTER (12 WEEKS)

Monday February 5 – Friday April 26

🔥 SPARK BRAND BOOSTER (12 WEEKS)

3:00 pm – 4:00 pm 🟢 Marketing Room

Wednesday February 7 7

All Day 🔥 SPARK BRAND BOOSTER (12 WEEKS)

Monday February 5 – Friday April 26

🔥 SPARK BRAND BOOSTER (12 WEEKS)

Thursday February 8 8

All Day 🔥 SPARK BRAND BOOSTER (12 WEEKS)

Monday February 5 – Friday April 26

🔥 SPARK BRAND BOOSTER (12 WEEKS)

3:00 pm – 4:00 pm 🔵 Business Room

Friday February 9 9

All Day 🔥 SPARK BRAND BOOSTER (12 WEEKS)

Monday February 5 – Friday April 26

🔥 SPARK BRAND BOOSTER (12 WEEKS)

3:00 pm – 4:00 pm 🟣 Ideation Room

Saturday February 10 10

All Day 🔥 SPARK BRAND BOOSTER (12 WEEKS)

Monday February 5 – Friday April 26

🔥 SPARK BRAND BOOSTER (12 WEEKS)

Sunday February 11 11

All Day 🔥 SPARK BRAND BOOSTER (12 WEEKS)

Monday February 5 – Friday April 26

🔥 SPARK BRAND BOOSTER (12 WEEKS)

Monday February 12 12

All Day 🔥 SPARK BRAND BOOSTER (12 WEEKS)

Monday February 5 – Friday April 26

🔥 SPARK BRAND BOOSTER (12 WEEKS)

2:00 pm – 3:00 pm ‼️ Free Brand Coaching
3:00 pm – 4:00 pm 🔴 Branding Room

Tuesday February 13 13

All Day 🔥 SPARK BRAND BOOSTER (12 WEEKS)

Monday February 5 – Friday April 26

🔥 SPARK BRAND BOOSTER (12 WEEKS)

3:00 pm – 4:00 pm 🟢 Marketing Room

Wednesday February 14 14

All Day 🔥 SPARK BRAND BOOSTER (12 WEEKS)

Monday February 5 – Friday April 26

🔥 SPARK BRAND BOOSTER (12 WEEKS)

Thursday February 15 15

All Day 🔥 SPARK BRAND BOOSTER (12 WEEKS)

Monday February 5 – Friday April 26

🔥 SPARK BRAND BOOSTER (12 WEEKS)

3:00 pm – 4:00 pm 🔵 Business Room

Friday February 16 16

All Day 🔥 SPARK BRAND BOOSTER (12 WEEKS)

Monday February 5 – Friday April 26

🔥 SPARK BRAND BOOSTER (12 WEEKS)

3:00 pm – 4:00 pm 🟣 Ideation Room

Saturday February 17 17

All Day 🔥 SPARK BRAND BOOSTER (12 WEEKS)

Monday February 5 – Friday April 26

🔥 SPARK BRAND BOOSTER (12 WEEKS)

Sunday February 18 18

All Day 🔥 SPARK BRAND BOOSTER (12 WEEKS)

Monday February 5 – Friday April 26

🔥 SPARK BRAND BOOSTER (12 WEEKS)

Monday February 19 19

All Day 🔥 SPARK BRAND BOOSTER (12 WEEKS)

Monday February 5 – Friday April 26

🔥 SPARK BRAND BOOSTER (12 WEEKS)

2:00 pm – 3:00 pm ‼️ Free Brand Coaching
3:00 pm – 4:00 pm 🔴 Branding Room

Tuesday February 20 20

All Day 🔥 SPARK BRAND BOOSTER (12 WEEKS)

Monday February 5 – Friday April 26

🔥 SPARK BRAND BOOSTER (12 WEEKS)

3:00 pm – 4:00 pm 🟢 Marketing Room

Wednesday February 21 21

All Day 🔥 SPARK BRAND BOOSTER (12 WEEKS)

Monday February 5 – Friday April 26

🔥 SPARK BRAND BOOSTER (12 WEEKS)

Thursday February 22 22

All Day 🔥 SPARK BRAND BOOSTER (12 WEEKS)

Monday February 5 – Friday April 26

🔥 SPARK BRAND BOOSTER (12 WEEKS)

3:00 pm – 4:00 pm 🔵 Business Room

Friday February 23 23

All Day 🔥 SPARK BRAND BOOSTER (12 WEEKS)

Monday February 5 – Friday April 26

🔥 SPARK BRAND BOOSTER (12 WEEKS)

3:00 pm – 4:00 pm 🟣 Ideation Room

Saturday February 24 24

All Day 🔥 SPARK BRAND BOOSTER (12 WEEKS)

Monday February 5 – Friday April 26

🔥 SPARK BRAND BOOSTER (12 WEEKS)

Sunday February 25 25

All Day 🔥 SPARK BRAND BOOSTER (12 WEEKS)

Monday February 5 – Friday April 26

🔥 SPARK BRAND BOOSTER (12 WEEKS)

Monday February 26 26

All Day 🔥 SPARK BRAND BOOSTER (12 WEEKS)

Monday February 5 – Friday April 26

🔥 SPARK BRAND BOOSTER (12 WEEKS)

2:00 pm – 3:00 pm ‼️ Free Brand Coaching
3:00 pm – 4:00 pm 🔴 Branding Room

Tuesday February 27 27

All Day 🔥 SPARK BRAND BOOSTER (12 WEEKS)

Monday February 5 – Friday April 26

🔥 SPARK BRAND BOOSTER (12 WEEKS)

3:00 pm – 4:00 pm 🟢 Marketing Room

Wednesday February 28 28

All Day 🔥 SPARK BRAND BOOSTER (12 WEEKS)

Monday February 5 – Friday April 26

🔥 SPARK BRAND BOOSTER (12 WEEKS)

Thursday February 29 29

All Day 🔥 SPARK BRAND BOOSTER (12 WEEKS)

Monday February 5 – Friday April 26

🔥 SPARK BRAND BOOSTER (12 WEEKS)

3:00 pm – 4:00 pm 🔵 Business Room
March 2024
Monday
Tuesday
Wednesday
Thursday
Friday
Saturday
Sunday

Friday March 1 1

All Day 🔥 SPARK BRAND BOOSTER (12 WEEKS)

Monday February 5 – Friday April 26

🔥 SPARK BRAND BOOSTER (12 WEEKS)

3:00 pm – 4:00 pm 🟣 Ideation Room

Saturday March 2 2

All Day 🔥 SPARK BRAND BOOSTER (12 WEEKS)

Monday February 5 – Friday April 26

🔥 SPARK BRAND BOOSTER (12 WEEKS)

Sunday March 3 3

All Day 🔥 SPARK BRAND BOOSTER (12 WEEKS)

Monday February 5 – Friday April 26

🔥 SPARK BRAND BOOSTER (12 WEEKS)

Monday March 4 4

All Day 🔥 SPARK BRAND BOOSTER (12 WEEKS)

Monday February 5 – Friday April 26

🔥 SPARK BRAND BOOSTER (12 WEEKS)

2:00 pm – 3:00 pm ‼️ Free Brand Coaching
3:00 pm – 4:00 pm 🔴 Branding Room

Tuesday March 5 5

All Day 🔥 SPARK BRAND BOOSTER (12 WEEKS)

Monday February 5 – Friday April 26

🔥 SPARK BRAND BOOSTER (12 WEEKS)

3:00 pm – 4:00 pm 🟢 Marketing Room

Wednesday March 6 6

All Day 🔥 SPARK BRAND BOOSTER (12 WEEKS)

Monday February 5 – Friday April 26

🔥 SPARK BRAND BOOSTER (12 WEEKS)

Thursday March 7 7

All Day 🔥 SPARK BRAND BOOSTER (12 WEEKS)

Monday February 5 – Friday April 26

🔥 SPARK BRAND BOOSTER (12 WEEKS)

3:00 pm – 4:00 pm 🔵 Business Room

Friday March 8 8

All Day 🔥 SPARK BRAND BOOSTER (12 WEEKS)

Monday February 5 – Friday April 26

🔥 SPARK BRAND BOOSTER (12 WEEKS)

3:00 pm – 4:00 pm 🟣 Ideation Room

Saturday March 9 9

All Day 🔥 SPARK BRAND BOOSTER (12 WEEKS)

Monday February 5 – Friday April 26

🔥 SPARK BRAND BOOSTER (12 WEEKS)

Sunday March 10 10

All Day 🔥 SPARK BRAND BOOSTER (12 WEEKS)

Monday February 5 – Friday April 26

🔥 SPARK BRAND BOOSTER (12 WEEKS)

Monday March 11 11

All Day 🔥 SPARK BRAND BOOSTER (12 WEEKS)

Monday February 5 – Friday April 26

🔥 SPARK BRAND BOOSTER (12 WEEKS)

2:00 pm – 3:00 pm ‼️ Free Brand Coaching
3:00 pm – 4:00 pm 🔴 Branding Room

Tuesday March 12 12

All Day 🔥 SPARK BRAND BOOSTER (12 WEEKS)

Monday February 5 – Friday April 26

🔥 SPARK BRAND BOOSTER (12 WEEKS)

3:00 pm – 4:00 pm 🟢 Marketing Room

Wednesday March 13 13

All Day 🔥 SPARK BRAND BOOSTER (12 WEEKS)

Monday February 5 – Friday April 26

🔥 SPARK BRAND BOOSTER (12 WEEKS)

Thursday March 14 14

All Day 🔥 SPARK BRAND BOOSTER (12 WEEKS)

Monday February 5 – Friday April 26

🔥 SPARK BRAND BOOSTER (12 WEEKS)

3:00 pm – 4:00 pm 🔵 Business Room

Friday March 15 15

All Day 🔥 SPARK BRAND BOOSTER (12 WEEKS)

Monday February 5 – Friday April 26

🔥 SPARK BRAND BOOSTER (12 WEEKS)

3:00 pm – 4:00 pm BRAND REFRESHER for SMEs
3:00 pm – 4:00 pm 🟣 Ideation Room

Saturday March 16 16

All Day 🔥 SPARK BRAND BOOSTER (12 WEEKS)

Monday February 5 – Friday April 26

🔥 SPARK BRAND BOOSTER (12 WEEKS)

Sunday March 17 17

All Day 🔥 SPARK BRAND BOOSTER (12 WEEKS)

Monday February 5 – Friday April 26

🔥 SPARK BRAND BOOSTER (12 WEEKS)

Monday March 18 18

All Day 🔥 SPARK BRAND BOOSTER (12 WEEKS)

Monday February 5 – Friday April 26

🔥 SPARK BRAND BOOSTER (12 WEEKS)

2:00 pm – 3:00 pm ‼️ Free Brand Coaching
3:00 pm – 4:00 pm 🔴 Branding Room

Tuesday March 19 19

All Day 🔥 SPARK BRAND BOOSTER (12 WEEKS)

Monday February 5 – Friday April 26

🔥 SPARK BRAND BOOSTER (12 WEEKS)

3:00 pm – 4:00 pm 🟢 Marketing Room

Wednesday March 20 20

All Day 🔥 SPARK BRAND BOOSTER (12 WEEKS)

Monday February 5 – Friday April 26

🔥 SPARK BRAND BOOSTER (12 WEEKS)

Thursday March 21 21

All Day 🔥 SPARK BRAND BOOSTER (12 WEEKS)

Monday February 5 – Friday April 26

🔥 SPARK BRAND BOOSTER (12 WEEKS)

3:00 pm – 4:00 pm 🔵 Business Room

Friday March 22 22

All Day 🔥 SPARK BRAND BOOSTER (12 WEEKS)

Monday February 5 – Friday April 26

🔥 SPARK BRAND BOOSTER (12 WEEKS)

3:00 pm – 4:00 pm 🟣 Ideation Room

Saturday March 23 23

All Day 🔥 SPARK BRAND BOOSTER (12 WEEKS)

Monday February 5 – Friday April 26

🔥 SPARK BRAND BOOSTER (12 WEEKS)

Sunday March 24 24

All Day 🔥 SPARK BRAND BOOSTER (12 WEEKS)

Monday February 5 – Friday April 26

🔥 SPARK BRAND BOOSTER (12 WEEKS)

Monday March 25 25

All Day 🔥 SPARK BRAND BOOSTER (12 WEEKS)

Monday February 5 – Friday April 26

🔥 SPARK BRAND BOOSTER (12 WEEKS)

2:00 pm – 3:00 pm ‼️ Free Brand Coaching
3:00 pm – 4:00 pm 🔴 Branding Room

Tuesday March 26 26

All Day 🔥 SPARK BRAND BOOSTER (12 WEEKS)

Monday February 5 – Friday April 26

🔥 SPARK BRAND BOOSTER (12 WEEKS)

3:00 pm – 4:00 pm 🟢 Marketing Room

Wednesday March 27 27

All Day 🔥 SPARK BRAND BOOSTER (12 WEEKS)

Monday February 5 – Friday April 26

🔥 SPARK BRAND BOOSTER (12 WEEKS)

Thursday March 28 28

All Day 🔥 SPARK BRAND BOOSTER (12 WEEKS)

Monday February 5 – Friday April 26

🔥 SPARK BRAND BOOSTER (12 WEEKS)

3:00 pm – 4:00 pm 🔵 Business Room

Friday March 29 29

All Day 🔥 SPARK BRAND BOOSTER (12 WEEKS)

Monday February 5 – Friday April 26

🔥 SPARK BRAND BOOSTER (12 WEEKS)

3:00 pm – 4:00 pm 🟣 Ideation Room

Saturday March 30 30

All Day 🔥 SPARK BRAND BOOSTER (12 WEEKS)

Monday February 5 – Friday April 26

🔥 SPARK BRAND BOOSTER (12 WEEKS)

Sunday March 31 31

All Day 🔥 SPARK BRAND BOOSTER (12 WEEKS)

Monday February 5 – Friday April 26

🔥 SPARK BRAND BOOSTER (12 WEEKS)
April 2024
Monday
Tuesday
Wednesday
Thursday
Friday
Saturday
Sunday

Monday April 1 1

All Day 🔥 SPARK BRAND BOOSTER (12 WEEKS)

Monday February 5 – Friday April 26

🔥 SPARK BRAND BOOSTER (12 WEEKS)

2:00 pm – 3:00 pm ‼️ Free Brand Coaching
3:00 pm – 4:00 pm 🔴 Branding Room

Tuesday April 2 2

All Day 🔥 SPARK BRAND BOOSTER (12 WEEKS)

Monday February 5 – Friday April 26

🔥 SPARK BRAND BOOSTER (12 WEEKS)

3:00 pm – 4:00 pm 🟢 Marketing Room

Wednesday April 3 3

All Day 🔥 SPARK BRAND BOOSTER (12 WEEKS)

Monday February 5 – Friday April 26

🔥 SPARK BRAND BOOSTER (12 WEEKS)

Thursday April 4 4

All Day 🔥 SPARK BRAND BOOSTER (12 WEEKS)

Monday February 5 – Friday April 26

🔥 SPARK BRAND BOOSTER (12 WEEKS)

3:00 pm – 4:00 pm 🔵 Business Room

Friday April 5 5

All Day 🔥 SPARK BRAND BOOSTER (12 WEEKS)

Monday February 5 – Friday April 26

🔥 SPARK BRAND BOOSTER (12 WEEKS)

3:00 pm – 4:00 pm 🟣 Ideation Room

Saturday April 6 6

All Day 🔥 SPARK BRAND BOOSTER (12 WEEKS)

Monday February 5 – Friday April 26

🔥 SPARK BRAND BOOSTER (12 WEEKS)

Sunday April 7 7

All Day 🔥 SPARK BRAND BOOSTER (12 WEEKS)

Monday February 5 – Friday April 26

🔥 SPARK BRAND BOOSTER (12 WEEKS)

Monday April 8 8

All Day 🔥 SPARK BRAND BOOSTER (12 WEEKS)

Monday February 5 – Friday April 26

🔥 SPARK BRAND BOOSTER (12 WEEKS)

2:00 pm – 3:00 pm ‼️ Free Brand Coaching
3:00 pm – 4:00 pm 🔴 Branding Room

Tuesday April 9 9

All Day 🔥 SPARK BRAND BOOSTER (12 WEEKS)

Monday February 5 – Friday April 26

🔥 SPARK BRAND BOOSTER (12 WEEKS)

3:00 pm – 4:00 pm 🟢 Marketing Room

Wednesday April 10 10

All Day 🔥 SPARK BRAND BOOSTER (12 WEEKS)

Monday February 5 – Friday April 26

🔥 SPARK BRAND BOOSTER (12 WEEKS)

Thursday April 11 11

All Day 🔥 SPARK BRAND BOOSTER (12 WEEKS)

Monday February 5 – Friday April 26

🔥 SPARK BRAND BOOSTER (12 WEEKS)

3:00 pm – 4:00 pm 🔵 Business Room

Friday April 12 12

All Day 🔥 SPARK BRAND BOOSTER (12 WEEKS)

Monday February 5 – Friday April 26

🔥 SPARK BRAND BOOSTER (12 WEEKS)

3:00 pm – 4:00 pm 🟣 Ideation Room

Saturday April 13 13

All Day 🔥 SPARK BRAND BOOSTER (12 WEEKS)

Monday February 5 – Friday April 26

🔥 SPARK BRAND BOOSTER (12 WEEKS)

Sunday April 14 14

All Day 🔥 SPARK BRAND BOOSTER (12 WEEKS)

Monday February 5 – Friday April 26

🔥 SPARK BRAND BOOSTER (12 WEEKS)

Monday April 15 15

All Day 🔥 SPARK BRAND BOOSTER (12 WEEKS)

Monday February 5 – Friday April 26

🔥 SPARK BRAND BOOSTER (12 WEEKS)

2:00 pm – 3:00 pm ‼️ Free Brand Coaching
3:00 pm – 4:00 pm 🔴 Branding Room

Tuesday April 16 16

All Day 🔥 SPARK BRAND BOOSTER (12 WEEKS)

Monday February 5 – Friday April 26

🔥 SPARK BRAND BOOSTER (12 WEEKS)

3:00 pm – 4:00 pm 🟢 Marketing Room

Wednesday April 17 17

All Day 🔥 SPARK BRAND BOOSTER (12 WEEKS)

Monday February 5 – Friday April 26

🔥 SPARK BRAND BOOSTER (12 WEEKS)

Thursday April 18 18

All Day 🔥 SPARK BRAND BOOSTER (12 WEEKS)

Monday February 5 – Friday April 26

🔥 SPARK BRAND BOOSTER (12 WEEKS)

3:00 pm – 4:00 pm 🔵 Business Room

Friday April 19 19

All Day 🔥 SPARK BRAND BOOSTER (12 WEEKS)

Monday February 5 – Friday April 26

🔥 SPARK BRAND BOOSTER (12 WEEKS)

3:00 pm – 4:00 pm 🟣 Ideation Room

Saturday April 20 20

All Day 🔥 SPARK BRAND BOOSTER (12 WEEKS)

Monday February 5 – Friday April 26

🔥 SPARK BRAND BOOSTER (12 WEEKS)

Sunday April 21 21

All Day 🔥 SPARK BRAND BOOSTER (12 WEEKS)

Monday February 5 – Friday April 26

🔥 SPARK BRAND BOOSTER (12 WEEKS)

Monday April 22 22

All Day 🔥 SPARK BRAND BOOSTER (12 WEEKS)

Monday February 5 – Friday April 26

🔥 SPARK BRAND BOOSTER (12 WEEKS)

2:00 pm – 3:00 pm ‼️ Free Brand Coaching
3:00 pm – 4:00 pm 🔴 Branding Room

Tuesday April 23 23

All Day 🔥 SPARK BRAND BOOSTER (12 WEEKS)

Monday February 5 – Friday April 26

🔥 SPARK BRAND BOOSTER (12 WEEKS)

3:00 pm – 4:00 pm 🟢 Marketing Room

Wednesday April 24 24

All Day 🔥 SPARK BRAND BOOSTER (12 WEEKS)

Monday February 5 – Friday April 26

🔥 SPARK BRAND BOOSTER (12 WEEKS)

Thursday April 25 25

All Day 🔥 SPARK BRAND BOOSTER (12 WEEKS)

Monday February 5 – Friday April 26

🔥 SPARK BRAND BOOSTER (12 WEEKS)

3:00 pm – 4:00 pm 🔵 Business Room

Friday April 26 26

All Day 🔥 SPARK BRAND BOOSTER (12 WEEKS)

Monday February 5 – Friday April 26

🔥 SPARK BRAND BOOSTER (12 WEEKS)

3:00 pm – 4:00 pm BRAND REFRESHER for SMEs
3:00 pm – 4:00 pm 🟣 Ideation Room

Saturday April 27 27

Sunday April 28 28

Monday April 29 29

2:00 pm – 3:00 pm ‼️ Free Brand Coaching
3:00 pm – 4:00 pm 🔴 Branding Room

Tuesday April 30 30

3:00 pm – 4:00 pm 🟢 Marketing Room
May 2024
Monday
Tuesday
Wednesday
Thursday
Friday
Saturday
Sunday

Wednesday May 1 1

Thursday May 2 2

3:00 pm – 4:00 pm 🔵 Business Room

Friday May 3 3

3:00 pm – 4:00 pm 🟣 Ideation Room

Saturday May 4 4

Sunday May 5 5

Monday May 6 6

2:00 pm – 3:00 pm ‼️ Free Brand Coaching
3:00 pm – 4:00 pm 🔴 Branding Room

Tuesday May 7 7

3:00 pm – 4:00 pm 🟢 Marketing Room

Wednesday May 8 8

Thursday May 9 9

3:00 pm – 4:00 pm 🔵 Business Room

Friday May 10 10

3:00 pm – 4:00 pm 🟣 Ideation Room

Saturday May 11 11

Sunday May 12 12

Monday May 13 13

All Day 🔥 SPARK BRAND BOOSTER (12 WEEKS)

Monday May 13 – Friday August 2

12:00 am – 11:00 pm

🔥 SPARK BRAND BOOSTER (12 WEEKS)

2:00 pm – 3:00 pm ‼️ Free Brand Coaching
3:00 pm – 4:00 pm 🔴 Branding Room

Tuesday May 14 14

All Day 🔥 SPARK BRAND BOOSTER (12 WEEKS)

Monday May 13 – Friday August 2

12:00 am – 11:00 pm

🔥 SPARK BRAND BOOSTER (12 WEEKS)

3:00 pm – 4:00 pm 🟢 Marketing Room

Wednesday May 15 15

All Day 🔥 SPARK BRAND BOOSTER (12 WEEKS)

Monday May 13 – Friday August 2

12:00 am – 11:00 pm

🔥 SPARK BRAND BOOSTER (12 WEEKS)

Thursday May 16 16

All Day 🔥 SPARK BRAND BOOSTER (12 WEEKS)

Monday May 13 – Friday August 2

12:00 am – 11:00 pm

🔥 SPARK BRAND BOOSTER (12 WEEKS)

3:00 pm – 4:00 pm 🔵 Business Room

Friday May 17 17

All Day 🔥 SPARK BRAND BOOSTER (12 WEEKS)

Monday May 13 – Friday August 2

12:00 am – 11:00 pm

🔥 SPARK BRAND BOOSTER (12 WEEKS)

3:00 pm – 4:00 pm 🟣 Ideation Room

Saturday May 18 18

All Day 🔥 SPARK BRAND BOOSTER (12 WEEKS)

Monday May 13 – Friday August 2

12:00 am – 11:00 pm

🔥 SPARK BRAND BOOSTER (12 WEEKS)

Sunday May 19 19

All Day 🔥 SPARK BRAND BOOSTER (12 WEEKS)

Monday May 13 – Friday August 2

12:00 am – 11:00 pm

🔥 SPARK BRAND BOOSTER (12 WEEKS)

Monday May 20 20

All Day 🔥 SPARK BRAND BOOSTER (12 WEEKS)

Monday May 13 – Friday August 2

12:00 am – 11:00 pm

🔥 SPARK BRAND BOOSTER (12 WEEKS)

2:00 pm – 3:00 pm ‼️ Free Brand Coaching
3:00 pm – 4:00 pm 🔴 Branding Room

Tuesday May 21 21

All Day 🔥 SPARK BRAND BOOSTER (12 WEEKS)

Monday May 13 – Friday August 2

12:00 am – 11:00 pm

🔥 SPARK BRAND BOOSTER (12 WEEKS)

3:00 pm – 4:00 pm 🟢 Marketing Room

Wednesday May 22 22

All Day 🔥 SPARK BRAND BOOSTER (12 WEEKS)

Monday May 13 – Friday August 2

12:00 am – 11:00 pm

🔥 SPARK BRAND BOOSTER (12 WEEKS)

Thursday May 23 23

All Day 🔥 SPARK BRAND BOOSTER (12 WEEKS)

Monday May 13 – Friday August 2

12:00 am – 11:00 pm

🔥 SPARK BRAND BOOSTER (12 WEEKS)

3:00 pm – 4:00 pm 🔵 Business Room

Friday May 24 24

All Day 🔥 SPARK BRAND BOOSTER (12 WEEKS)

Monday May 13 – Friday August 2

12:00 am – 11:00 pm

🔥 SPARK BRAND BOOSTER (12 WEEKS)

3:00 pm – 4:00 pm 🟣 Ideation Room

Saturday May 25 25

All Day 🔥 SPARK BRAND BOOSTER (12 WEEKS)

Monday May 13 – Friday August 2

12:00 am – 11:00 pm

🔥 SPARK BRAND BOOSTER (12 WEEKS)

Sunday May 26 26

All Day 🔥 SPARK BRAND BOOSTER (12 WEEKS)

Monday May 13 – Friday August 2

12:00 am – 11:00 pm

🔥 SPARK BRAND BOOSTER (12 WEEKS)

Monday May 27 27

All Day 🔥 SPARK BRAND BOOSTER (12 WEEKS)

Monday May 13 – Friday August 2

12:00 am – 11:00 pm

🔥 SPARK BRAND BOOSTER (12 WEEKS)

2:00 pm – 3:00 pm ‼️ Free Brand Coaching
3:00 pm – 4:00 pm 🔴 Branding Room

Tuesday May 28 28

All Day 🔥 SPARK BRAND BOOSTER (12 WEEKS)

Monday May 13 – Friday August 2

12:00 am – 11:00 pm

🔥 SPARK BRAND BOOSTER (12 WEEKS)

3:00 pm – 4:00 pm 🟢 Marketing Room

Wednesday May 29 29

All Day 🔥 SPARK BRAND BOOSTER (12 WEEKS)

Monday May 13 – Friday August 2

12:00 am – 11:00 pm

🔥 SPARK BRAND BOOSTER (12 WEEKS)

Thursday May 30 30

All Day 🔥 SPARK BRAND BOOSTER (12 WEEKS)

Monday May 13 – Friday August 2

12:00 am – 11:00 pm

🔥 SPARK BRAND BOOSTER (12 WEEKS)

3:00 pm – 4:00 pm 🔵 Business Room

Friday May 31 31

All Day 🔥 SPARK BRAND BOOSTER (12 WEEKS)

Monday May 13 – Friday August 2

12:00 am – 11:00 pm

🔥 SPARK BRAND BOOSTER (12 WEEKS)

3:00 pm – 4:00 pm 🟣 Ideation Room
June 2024
Monday
Tuesday
Wednesday
Thursday
Friday
Saturday
Sunday

Saturday June 1 1

All Day 🔥 SPARK BRAND BOOSTER (12 WEEKS)

Monday May 13 – Friday August 2

12:00 am – 11:00 pm

🔥 SPARK BRAND BOOSTER (12 WEEKS)

Sunday June 2 2

All Day 🔥 SPARK BRAND BOOSTER (12 WEEKS)

Monday May 13 – Friday August 2

12:00 am – 11:00 pm

🔥 SPARK BRAND BOOSTER (12 WEEKS)

Monday June 3 3

All Day 🔥 SPARK BRAND BOOSTER (12 WEEKS)

Monday May 13 – Friday August 2

12:00 am – 11:00 pm

🔥 SPARK BRAND BOOSTER (12 WEEKS)

2:00 pm – 3:00 pm ‼️ Free Brand Coaching
3:00 pm – 4:00 pm 🔴 Branding Room

Tuesday June 4 4

All Day 🔥 SPARK BRAND BOOSTER (12 WEEKS)

Monday May 13 – Friday August 2

12:00 am – 11:00 pm

🔥 SPARK BRAND BOOSTER (12 WEEKS)

3:00 pm – 4:00 pm 🟢 Marketing Room

Wednesday June 5 5

All Day 🔥 SPARK BRAND BOOSTER (12 WEEKS)

Monday May 13 – Friday August 2

12:00 am – 11:00 pm

🔥 SPARK BRAND BOOSTER (12 WEEKS)

Thursday June 6 6

All Day 🔥 SPARK BRAND BOOSTER (12 WEEKS)

Monday May 13 – Friday August 2

12:00 am – 11:00 pm

🔥 SPARK BRAND BOOSTER (12 WEEKS)

3:00 pm – 4:00 pm 🔵 Business Room

Friday June 7 7

All Day 🔥 SPARK BRAND BOOSTER (12 WEEKS)

Monday May 13 – Friday August 2

12:00 am – 11:00 pm

🔥 SPARK BRAND BOOSTER (12 WEEKS)

3:00 pm – 4:00 pm BRAND REFRESHER for SMEs
3:00 pm – 4:00 pm 🟣 Ideation Room

Saturday June 8 8

All Day 🔥 SPARK BRAND BOOSTER (12 WEEKS)

Monday May 13 – Friday August 2

12:00 am – 11:00 pm

🔥 SPARK BRAND BOOSTER (12 WEEKS)

Sunday June 9 9

All Day 🔥 SPARK BRAND BOOSTER (12 WEEKS)

Monday May 13 – Friday August 2

12:00 am – 11:00 pm

🔥 SPARK BRAND BOOSTER (12 WEEKS)

Monday June 10 10

All Day 🔥 SPARK BRAND BOOSTER (12 WEEKS)

Monday May 13 – Friday August 2

12:00 am – 11:00 pm

🔥 SPARK BRAND BOOSTER (12 WEEKS)

2:00 pm – 3:00 pm ‼️ Free Brand Coaching
3:00 pm – 4:00 pm 🔴 Branding Room

Tuesday June 11 11

All Day 🔥 SPARK BRAND BOOSTER (12 WEEKS)

Monday May 13 – Friday August 2

12:00 am – 11:00 pm

🔥 SPARK BRAND BOOSTER (12 WEEKS)

3:00 pm – 4:00 pm 🟢 Marketing Room

Wednesday June 12 12

All Day 🔥 SPARK BRAND BOOSTER (12 WEEKS)

Monday May 13 – Friday August 2

12:00 am – 11:00 pm

🔥 SPARK BRAND BOOSTER (12 WEEKS)

Thursday June 13 13

All Day 🔥 SPARK BRAND BOOSTER (12 WEEKS)

Monday May 13 – Friday August 2

12:00 am – 11:00 pm

🔥 SPARK BRAND BOOSTER (12 WEEKS)

3:00 pm – 4:00 pm 🔵 Business Room

Friday June 14 14

All Day 🔥 SPARK BRAND BOOSTER (12 WEEKS)

Monday May 13 – Friday August 2

12:00 am – 11:00 pm

🔥 SPARK BRAND BOOSTER (12 WEEKS)

3:00 pm – 4:00 pm 🟣 Ideation Room

Saturday June 15 15

All Day 🔥 SPARK BRAND BOOSTER (12 WEEKS)

Monday May 13 – Friday August 2

12:00 am – 11:00 pm

🔥 SPARK BRAND BOOSTER (12 WEEKS)

Sunday June 16 16

All Day 🔥 SPARK BRAND BOOSTER (12 WEEKS)

Monday May 13 – Friday August 2

12:00 am – 11:00 pm

🔥 SPARK BRAND BOOSTER (12 WEEKS)

Monday June 17 17

All Day 🔥 SPARK BRAND BOOSTER (12 WEEKS)

Monday May 13 – Friday August 2

12:00 am – 11:00 pm

🔥 SPARK BRAND BOOSTER (12 WEEKS)

2:00 pm – 3:00 pm ‼️ Free Brand Coaching
3:00 pm – 4:00 pm 🔴 Branding Room

Tuesday June 18 18

All Day 🔥 SPARK BRAND BOOSTER (12 WEEKS)

Monday May 13 – Friday August 2

12:00 am – 11:00 pm

🔥 SPARK BRAND BOOSTER (12 WEEKS)

3:00 pm – 4:00 pm 🟢 Marketing Room

Wednesday June 19 19

All Day 🔥 SPARK BRAND BOOSTER (12 WEEKS)

Monday May 13 – Friday August 2

12:00 am – 11:00 pm

🔥 SPARK BRAND BOOSTER (12 WEEKS)

Thursday June 20 20

All Day 🔥 SPARK BRAND BOOSTER (12 WEEKS)

Monday May 13 – Friday August 2

12:00 am – 11:00 pm

🔥 SPARK BRAND BOOSTER (12 WEEKS)

3:00 pm – 4:00 pm 🔵 Business Room

Friday June 21 21

All Day 🔥 SPARK BRAND BOOSTER (12 WEEKS)

Monday May 13 – Friday August 2

12:00 am – 11:00 pm

🔥 SPARK BRAND BOOSTER (12 WEEKS)

3:00 pm – 4:00 pm 🟣 Ideation Room

Saturday June 22 22

All Day 🔥 SPARK BRAND BOOSTER (12 WEEKS)

Monday May 13 – Friday August 2

12:00 am – 11:00 pm

🔥 SPARK BRAND BOOSTER (12 WEEKS)

Sunday June 23 23

All Day 🔥 SPARK BRAND BOOSTER (12 WEEKS)

Monday May 13 – Friday August 2

12:00 am – 11:00 pm

🔥 SPARK BRAND BOOSTER (12 WEEKS)

Monday June 24 24

All Day 🔥 SPARK BRAND BOOSTER (12 WEEKS)

Monday May 13 – Friday August 2

12:00 am – 11:00 pm

🔥 SPARK BRAND BOOSTER (12 WEEKS)

2:00 pm – 3:00 pm ‼️ Free Brand Coaching
3:00 pm – 4:00 pm 🔴 Branding Room

Tuesday June 25 25

All Day 🔥 SPARK BRAND BOOSTER (12 WEEKS)

Monday May 13 – Friday August 2

12:00 am – 11:00 pm

🔥 SPARK BRAND BOOSTER (12 WEEKS)

3:00 pm – 4:00 pm 🟢 Marketing Room

Wednesday June 26 26

All Day 🔥 SPARK BRAND BOOSTER (12 WEEKS)

Monday May 13 – Friday August 2

12:00 am – 11:00 pm

🔥 SPARK BRAND BOOSTER (12 WEEKS)

Thursday June 27 27

All Day 🔥 SPARK BRAND BOOSTER (12 WEEKS)

Monday May 13 – Friday August 2

12:00 am – 11:00 pm

🔥 SPARK BRAND BOOSTER (12 WEEKS)

3:00 pm – 4:00 pm 🔵 Business Room

Friday June 28 28

All Day 🔥 SPARK BRAND BOOSTER (12 WEEKS)

Monday May 13 – Friday August 2

12:00 am – 11:00 pm

🔥 SPARK BRAND BOOSTER (12 WEEKS)

3:00 pm – 4:00 pm 🟣 Ideation Room

Saturday June 29 29

All Day 🔥 SPARK BRAND BOOSTER (12 WEEKS)

Monday May 13 – Friday August 2

12:00 am – 11:00 pm

🔥 SPARK BRAND BOOSTER (12 WEEKS)

Sunday June 30 30

All Day 🔥 SPARK BRAND BOOSTER (12 WEEKS)

Monday May 13 – Friday August 2

12:00 am – 11:00 pm

🔥 SPARK BRAND BOOSTER (12 WEEKS)
July 2024
Monday
Tuesday
Wednesday
Thursday
Friday
Saturday
Sunday

Monday July 1 1

All Day 🔥 SPARK BRAND BOOSTER (12 WEEKS)

Monday May 13 – Friday August 2

12:00 am – 11:00 pm

🔥 SPARK BRAND BOOSTER (12 WEEKS)

2:00 pm – 3:00 pm ‼️ Free Brand Coaching
3:00 pm – 4:00 pm 🔴 Branding Room

Tuesday July 2 2

All Day 🔥 SPARK BRAND BOOSTER (12 WEEKS)

Monday May 13 – Friday August 2

12:00 am – 11:00 pm

🔥 SPARK BRAND BOOSTER (12 WEEKS)

3:00 pm – 4:00 pm 🟢 Marketing Room

Wednesday July 3 3

All Day 🔥 SPARK BRAND BOOSTER (12 WEEKS)

Monday May 13 – Friday August 2

12:00 am – 11:00 pm

🔥 SPARK BRAND BOOSTER (12 WEEKS)

Thursday July 4 4

All Day 🔥 SPARK BRAND BOOSTER (12 WEEKS)

Monday May 13 – Friday August 2

12:00 am – 11:00 pm

🔥 SPARK BRAND BOOSTER (12 WEEKS)

3:00 pm – 4:00 pm 🔵 Business Room

Friday July 5 5

All Day 🔥 SPARK BRAND BOOSTER (12 WEEKS)

Monday May 13 – Friday August 2

12:00 am – 11:00 pm

🔥 SPARK BRAND BOOSTER (12 WEEKS)

3:00 pm – 4:00 pm 🟣 Ideation Room

Saturday July 6 6

All Day 🔥 SPARK BRAND BOOSTER (12 WEEKS)

Monday May 13 – Friday August 2

12:00 am – 11:00 pm

🔥 SPARK BRAND BOOSTER (12 WEEKS)

Sunday July 7 7

All Day 🔥 SPARK BRAND BOOSTER (12 WEEKS)

Monday May 13 – Friday August 2

12:00 am – 11:00 pm

🔥 SPARK BRAND BOOSTER (12 WEEKS)

Monday July 8 8

All Day 🔥 SPARK BRAND BOOSTER (12 WEEKS)

Monday May 13 – Friday August 2

12:00 am – 11:00 pm

🔥 SPARK BRAND BOOSTER (12 WEEKS)

2:00 pm – 3:00 pm ‼️ Free Brand Coaching
3:00 pm – 4:00 pm 🔴 Branding Room

Tuesday July 9 9

All Day 🔥 SPARK BRAND BOOSTER (12 WEEKS)

Monday May 13 – Friday August 2

12:00 am – 11:00 pm

🔥 SPARK BRAND BOOSTER (12 WEEKS)

3:00 pm – 4:00 pm 🟢 Marketing Room

Wednesday July 10 10

All Day 🔥 SPARK BRAND BOOSTER (12 WEEKS)

Monday May 13 – Friday August 2

12:00 am – 11:00 pm

🔥 SPARK BRAND BOOSTER (12 WEEKS)

Thursday July 11 11

All Day 🔥 SPARK BRAND BOOSTER (12 WEEKS)

Monday May 13 – Friday August 2

12:00 am – 11:00 pm

🔥 SPARK BRAND BOOSTER (12 WEEKS)

3:00 pm – 4:00 pm 🔵 Business Room

Friday July 12 12

All Day 🔥 SPARK BRAND BOOSTER (12 WEEKS)

Monday May 13 – Friday August 2

12:00 am – 11:00 pm

🔥 SPARK BRAND BOOSTER (12 WEEKS)

3:00 pm – 4:00 pm 🟣 Ideation Room

Saturday July 13 13

All Day 🔥 SPARK BRAND BOOSTER (12 WEEKS)

Monday May 13 – Friday August 2

12:00 am – 11:00 pm

🔥 SPARK BRAND BOOSTER (12 WEEKS)

Sunday July 14 14

All Day 🔥 SPARK BRAND BOOSTER (12 WEEKS)

Monday May 13 – Friday August 2

12:00 am – 11:00 pm

🔥 SPARK BRAND BOOSTER (12 WEEKS)

Monday July 15 15

All Day 🔥 SPARK BRAND BOOSTER (12 WEEKS)

Monday May 13 – Friday August 2

12:00 am – 11:00 pm

🔥 SPARK BRAND BOOSTER (12 WEEKS)

2:00 pm – 3:00 pm ‼️ Free Brand Coaching
3:00 pm – 4:00 pm 🔴 Branding Room

Tuesday July 16 16

All Day 🔥 SPARK BRAND BOOSTER (12 WEEKS)

Monday May 13 – Friday August 2

12:00 am – 11:00 pm

🔥 SPARK BRAND BOOSTER (12 WEEKS)

3:00 pm – 4:00 pm 🟢 Marketing Room

Wednesday July 17 17

All Day 🔥 SPARK BRAND BOOSTER (12 WEEKS)

Monday May 13 – Friday August 2

12:00 am – 11:00 pm

🔥 SPARK BRAND BOOSTER (12 WEEKS)

Thursday July 18 18

All Day 🔥 SPARK BRAND BOOSTER (12 WEEKS)

Monday May 13 – Friday August 2

12:00 am – 11:00 pm

🔥 SPARK BRAND BOOSTER (12 WEEKS)

3:00 pm – 4:00 pm 🔵 Business Room

Friday July 19 19

All Day 🔥 SPARK BRAND BOOSTER (12 WEEKS)

Monday May 13 – Friday August 2

12:00 am – 11:00 pm

🔥 SPARK BRAND BOOSTER (12 WEEKS)

3:00 pm – 4:00 pm BRAND REFRESHER for SMEs
3:00 pm – 4:00 pm 🟣 Ideation Room

Saturday July 20 20

All Day 🔥 SPARK BRAND BOOSTER (12 WEEKS)

Monday May 13 – Friday August 2

12:00 am – 11:00 pm

🔥 SPARK BRAND BOOSTER (12 WEEKS)

Sunday July 21 21

All Day 🔥 SPARK BRAND BOOSTER (12 WEEKS)

Monday May 13 – Friday August 2

12:00 am – 11:00 pm

🔥 SPARK BRAND BOOSTER (12 WEEKS)

Monday July 22 22

All Day 🔥 SPARK BRAND BOOSTER (12 WEEKS)

Monday May 13 – Friday August 2

12:00 am – 11:00 pm

🔥 SPARK BRAND BOOSTER (12 WEEKS)

2:00 pm – 3:00 pm ‼️ Free Brand Coaching
3:00 pm – 4:00 pm 🔴 Branding Room

Tuesday July 23 23

All Day 🔥 SPARK BRAND BOOSTER (12 WEEKS)

Monday May 13 – Friday August 2

12:00 am – 11:00 pm

🔥 SPARK BRAND BOOSTER (12 WEEKS)

3:00 pm – 4:00 pm 🟢 Marketing Room

Wednesday July 24 24

All Day 🔥 SPARK BRAND BOOSTER (12 WEEKS)

Monday May 13 – Friday August 2

12:00 am – 11:00 pm

🔥 SPARK BRAND BOOSTER (12 WEEKS)

Thursday July 25 25

All Day 🔥 SPARK BRAND BOOSTER (12 WEEKS)

Monday May 13 – Friday August 2

12:00 am – 11:00 pm

🔥 SPARK BRAND BOOSTER (12 WEEKS)

3:00 pm – 4:00 pm 🔵 Business Room

Friday July 26 26

All Day 🔥 SPARK BRAND BOOSTER (12 WEEKS)

Monday May 13 – Friday August 2

12:00 am – 11:00 pm

🔥 SPARK BRAND BOOSTER (12 WEEKS)

3:00 pm – 4:00 pm 🟣 Ideation Room

Saturday July 27 27

All Day 🔥 SPARK BRAND BOOSTER (12 WEEKS)

Monday May 13 – Friday August 2

12:00 am – 11:00 pm

🔥 SPARK BRAND BOOSTER (12 WEEKS)

Sunday July 28 28

All Day 🔥 SPARK BRAND BOOSTER (12 WEEKS)

Monday May 13 – Friday August 2

12:00 am – 11:00 pm

🔥 SPARK BRAND BOOSTER (12 WEEKS)

Monday July 29 29

All Day 🔥 SPARK BRAND BOOSTER (12 WEEKS)

Monday May 13 – Friday August 2

12:00 am – 11:00 pm

🔥 SPARK BRAND BOOSTER (12 WEEKS)

2:00 pm – 3:00 pm ‼️ Free Brand Coaching
3:00 pm – 4:00 pm 🔴 Branding Room

Tuesday July 30 30

All Day 🔥 SPARK BRAND BOOSTER (12 WEEKS)

Monday May 13 – Friday August 2

12:00 am – 11:00 pm

🔥 SPARK BRAND BOOSTER (12 WEEKS)

3:00 pm – 4:00 pm 🟢 Marketing Room

Wednesday July 31 31

All Day 🔥 SPARK BRAND BOOSTER (12 WEEKS)

Monday May 13 – Friday August 2

12:00 am – 11:00 pm

🔥 SPARK BRAND BOOSTER (12 WEEKS)
August 2024
Monday
Tuesday
Wednesday
Thursday
Friday
Saturday
Sunday

Thursday August 1 1

All Day 🔥 SPARK BRAND BOOSTER (12 WEEKS)

Monday May 13 – Friday August 2

12:00 am – 11:00 pm

🔥 SPARK BRAND BOOSTER (12 WEEKS)

3:00 pm – 4:00 pm 🔵 Business Room

Friday August 2 2

All Day 🔥 SPARK BRAND BOOSTER (12 WEEKS)

Monday May 13 – Friday August 2

12:00 am – 11:00 pm

🔥 SPARK BRAND BOOSTER (12 WEEKS)

3:00 pm – 4:00 pm 🟣 Ideation Room

Saturday August 3 3

Sunday August 4 4

Monday August 5 5

2:00 pm – 3:00 pm ‼️ Free Brand Coaching
3:00 pm – 4:00 pm 🔴 Branding Room

Tuesday August 6 6

3:00 pm – 4:00 pm 🟢 Marketing Room

Wednesday August 7 7

Thursday August 8 8

3:00 pm – 4:00 pm 🔵 Business Room

Friday August 9 9

3:00 pm – 4:00 pm 🟣 Ideation Room

Saturday August 10 10

Sunday August 11 11

Monday August 12 12

2:00 pm – 3:00 pm ‼️ Free Brand Coaching
3:00 pm – 4:00 pm 🔴 Branding Room

Tuesday August 13 13

3:00 pm – 4:00 pm 🟢 Marketing Room

Wednesday August 14 14

Thursday August 15 15

3:00 pm – 4:00 pm 🔵 Business Room

Friday August 16 16

3:00 pm – 4:00 pm 🟣 Ideation Room

Saturday August 17 17

Sunday August 18 18

Monday August 19 19

All Day 🔥 SPARK BRAND BOOSTER (12 WEEKS)

Monday August 19 – Friday November 8

12:00 am – 11:00 pm

🔥 SPARK BRAND BOOSTER (12 WEEKS)

2:00 pm – 3:00 pm ‼️ Free Brand Coaching
3:00 pm – 4:00 pm 🔴 Branding Room

Tuesday August 20 20

All Day 🔥 SPARK BRAND BOOSTER (12 WEEKS)

Monday August 19 – Friday November 8

12:00 am – 11:00 pm

🔥 SPARK BRAND BOOSTER (12 WEEKS)

3:00 pm – 4:00 pm 🟢 Marketing Room

Wednesday August 21 21

All Day 🔥 SPARK BRAND BOOSTER (12 WEEKS)

Monday August 19 – Friday November 8

12:00 am – 11:00 pm

🔥 SPARK BRAND BOOSTER (12 WEEKS)

Thursday August 22 22

All Day 🔥 SPARK BRAND BOOSTER (12 WEEKS)

Monday August 19 – Friday November 8

12:00 am – 11:00 pm

🔥 SPARK BRAND BOOSTER (12 WEEKS)

3:00 pm – 4:00 pm 🔵 Business Room

Friday August 23 23

All Day 🔥 SPARK BRAND BOOSTER (12 WEEKS)

Monday August 19 – Friday November 8

12:00 am – 11:00 pm

🔥 SPARK BRAND BOOSTER (12 WEEKS)

3:00 pm – 4:00 pm 🟣 Ideation Room

Saturday August 24 24

All Day 🔥 SPARK BRAND BOOSTER (12 WEEKS)

Monday August 19 – Friday November 8

12:00 am – 11:00 pm

🔥 SPARK BRAND BOOSTER (12 WEEKS)

Sunday August 25 25

All Day 🔥 SPARK BRAND BOOSTER (12 WEEKS)

Monday August 19 – Friday November 8

12:00 am – 11:00 pm

🔥 SPARK BRAND BOOSTER (12 WEEKS)

Monday August 26 26

All Day 🔥 SPARK BRAND BOOSTER (12 WEEKS)

Monday August 19 – Friday November 8

12:00 am – 11:00 pm

🔥 SPARK BRAND BOOSTER (12 WEEKS)

2:00 pm – 3:00 pm ‼️ Free Brand Coaching
3:00 pm – 4:00 pm 🔴 Branding Room

Tuesday August 27 27

All Day 🔥 SPARK BRAND BOOSTER (12 WEEKS)

Monday August 19 – Friday November 8

12:00 am – 11:00 pm

🔥 SPARK BRAND BOOSTER (12 WEEKS)

3:00 pm – 4:00 pm 🟢 Marketing Room

Wednesday August 28 28

All Day 🔥 SPARK BRAND BOOSTER (12 WEEKS)

Monday August 19 – Friday November 8

12:00 am – 11:00 pm

🔥 SPARK BRAND BOOSTER (12 WEEKS)

Thursday August 29 29

All Day 🔥 SPARK BRAND BOOSTER (12 WEEKS)

Monday August 19 – Friday November 8

12:00 am – 11:00 pm

🔥 SPARK BRAND BOOSTER (12 WEEKS)

3:00 pm – 4:00 pm 🔵 Business Room

Friday August 30 30

All Day 🔥 SPARK BRAND BOOSTER (12 WEEKS)

Monday August 19 – Friday November 8

12:00 am – 11:00 pm

🔥 SPARK BRAND BOOSTER (12 WEEKS)

3:00 pm – 4:00 pm BRAND REFRESHER for SMEs
3:00 pm – 4:00 pm 🟣 Ideation Room

Saturday August 31 31

All Day 🔥 SPARK BRAND BOOSTER (12 WEEKS)

Monday August 19 – Friday November 8

12:00 am – 11:00 pm

🔥 SPARK BRAND BOOSTER (12 WEEKS)
September 2024
Monday
Tuesday
Wednesday
Thursday
Friday
Saturday
Sunday

Sunday September 1 1

All Day 🔥 SPARK BRAND BOOSTER (12 WEEKS)

Monday August 19 – Friday November 8

12:00 am – 11:00 pm

🔥 SPARK BRAND BOOSTER (12 WEEKS)

Monday September 2 2

All Day 🔥 SPARK BRAND BOOSTER (12 WEEKS)

Monday August 19 – Friday November 8

12:00 am – 11:00 pm

🔥 SPARK BRAND BOOSTER (12 WEEKS)

2:00 pm – 3:00 pm ‼️ Free Brand Coaching
3:00 pm – 4:00 pm 🔴 Branding Room

Tuesday September 3 3

All Day 🔥 SPARK BRAND BOOSTER (12 WEEKS)

Monday August 19 – Friday November 8

12:00 am – 11:00 pm

🔥 SPARK BRAND BOOSTER (12 WEEKS)

3:00 pm – 4:00 pm 🟢 Marketing Room

Wednesday September 4 4

All Day 🔥 SPARK BRAND BOOSTER (12 WEEKS)

Monday August 19 – Friday November 8

12:00 am – 11:00 pm

🔥 SPARK BRAND BOOSTER (12 WEEKS)

Thursday September 5 5

All Day 🔥 SPARK BRAND BOOSTER (12 WEEKS)

Monday August 19 – Friday November 8

12:00 am – 11:00 pm

🔥 SPARK BRAND BOOSTER (12 WEEKS)

3:00 pm – 4:00 pm 🔵 Business Room

Friday September 6 6

All Day 🔥 SPARK BRAND BOOSTER (12 WEEKS)

Monday August 19 – Friday November 8

12:00 am – 11:00 pm

🔥 SPARK BRAND BOOSTER (12 WEEKS)

3:00 pm – 4:00 pm 🟣 Ideation Room

Saturday September 7 7

All Day 🔥 SPARK BRAND BOOSTER (12 WEEKS)

Monday August 19 – Friday November 8

12:00 am – 11:00 pm

🔥 SPARK BRAND BOOSTER (12 WEEKS)

Sunday September 8 8

All Day 🔥 SPARK BRAND BOOSTER (12 WEEKS)

Monday August 19 – Friday November 8

12:00 am – 11:00 pm

🔥 SPARK BRAND BOOSTER (12 WEEKS)

Monday September 9 9

All Day 🔥 SPARK BRAND BOOSTER (12 WEEKS)

Monday August 19 – Friday November 8

12:00 am – 11:00 pm

🔥 SPARK BRAND BOOSTER (12 WEEKS)

2:00 pm – 3:00 pm ‼️ Free Brand Coaching
3:00 pm – 4:00 pm 🔴 Branding Room

Tuesday September 10 10

All Day 🔥 SPARK BRAND BOOSTER (12 WEEKS)

Monday August 19 – Friday November 8

12:00 am – 11:00 pm

🔥 SPARK BRAND BOOSTER (12 WEEKS)

3:00 pm – 4:00 pm 🟢 Marketing Room

Wednesday September 11 11

All Day 🔥 SPARK BRAND BOOSTER (12 WEEKS)

Monday August 19 – Friday November 8

12:00 am – 11:00 pm

🔥 SPARK BRAND BOOSTER (12 WEEKS)

Thursday September 12 12

All Day 🔥 SPARK BRAND BOOSTER (12 WEEKS)

Monday August 19 – Friday November 8

12:00 am – 11:00 pm

🔥 SPARK BRAND BOOSTER (12 WEEKS)

3:00 pm – 4:00 pm 🔵 Business Room

Friday September 13 13

All Day 🔥 SPARK BRAND BOOSTER (12 WEEKS)

Monday August 19 – Friday November 8

12:00 am – 11:00 pm

🔥 SPARK BRAND BOOSTER (12 WEEKS)

3:00 pm – 4:00 pm 🟣 Ideation Room

Saturday September 14 14

All Day 🔥 SPARK BRAND BOOSTER (12 WEEKS)

Monday August 19 – Friday November 8

12:00 am – 11:00 pm

🔥 SPARK BRAND BOOSTER (12 WEEKS)

Sunday September 15 15

All Day 🔥 SPARK BRAND BOOSTER (12 WEEKS)

Monday August 19 – Friday November 8

12:00 am – 11:00 pm

🔥 SPARK BRAND BOOSTER (12 WEEKS)

Monday September 16 16

All Day 🔥 SPARK BRAND BOOSTER (12 WEEKS)

Monday August 19 – Friday November 8

12:00 am – 11:00 pm

🔥 SPARK BRAND BOOSTER (12 WEEKS)

2:00 pm – 3:00 pm ‼️ Free Brand Coaching
3:00 pm – 4:00 pm 🔴 Branding Room

Tuesday September 17 17

All Day 🔥 SPARK BRAND BOOSTER (12 WEEKS)

Monday August 19 – Friday November 8

12:00 am – 11:00 pm

🔥 SPARK BRAND BOOSTER (12 WEEKS)

3:00 pm – 4:00 pm 🟢 Marketing Room

Wednesday September 18 18

All Day 🔥 SPARK BRAND BOOSTER (12 WEEKS)

Monday August 19 – Friday November 8

12:00 am – 11:00 pm

🔥 SPARK BRAND BOOSTER (12 WEEKS)

Thursday September 19 19

All Day 🔥 SPARK BRAND BOOSTER (12 WEEKS)

Monday August 19 – Friday November 8

12:00 am – 11:00 pm

🔥 SPARK BRAND BOOSTER (12 WEEKS)

3:00 pm – 4:00 pm 🔵 Business Room

Friday September 20 20

All Day 🔥 SPARK BRAND BOOSTER (12 WEEKS)

Monday August 19 – Friday November 8

12:00 am – 11:00 pm

🔥 SPARK BRAND BOOSTER (12 WEEKS)

3:00 pm – 4:00 pm 🟣 Ideation Room

Saturday September 21 21

All Day 🔥 SPARK BRAND BOOSTER (12 WEEKS)

Monday August 19 – Friday November 8

12:00 am – 11:00 pm

🔥 SPARK BRAND BOOSTER (12 WEEKS)

Sunday September 22 22

All Day 🔥 SPARK BRAND BOOSTER (12 WEEKS)

Monday August 19 – Friday November 8

12:00 am – 11:00 pm

🔥 SPARK BRAND BOOSTER (12 WEEKS)

Monday September 23 23

All Day 🔥 SPARK BRAND BOOSTER (12 WEEKS)

Monday August 19 – Friday November 8

12:00 am – 11:00 pm

🔥 SPARK BRAND BOOSTER (12 WEEKS)

2:00 pm – 3:00 pm ‼️ Free Brand Coaching
3:00 pm – 4:00 pm 🔴 Branding Room

Tuesday September 24 24

All Day 🔥 SPARK BRAND BOOSTER (12 WEEKS)

Monday August 19 – Friday November 8

12:00 am – 11:00 pm

🔥 SPARK BRAND BOOSTER (12 WEEKS)

3:00 pm – 4:00 pm 🟢 Marketing Room

Wednesday September 25 25

All Day 🔥 SPARK BRAND BOOSTER (12 WEEKS)

Monday August 19 – Friday November 8

12:00 am – 11:00 pm

🔥 SPARK BRAND BOOSTER (12 WEEKS)

Thursday September 26 26

All Day 🔥 SPARK BRAND BOOSTER (12 WEEKS)

Monday August 19 – Friday November 8

12:00 am – 11:00 pm

🔥 SPARK BRAND BOOSTER (12 WEEKS)

3:00 pm – 4:00 pm 🔵 Business Room

Friday September 27 27

All Day 🔥 SPARK BRAND BOOSTER (12 WEEKS)

Monday August 19 – Friday November 8

12:00 am – 11:00 pm

🔥 SPARK BRAND BOOSTER (12 WEEKS)

3:00 pm – 4:00 pm 🟣 Ideation Room

Saturday September 28 28

All Day 🔥 SPARK BRAND BOOSTER (12 WEEKS)

Monday August 19 – Friday November 8

12:00 am – 11:00 pm

🔥 SPARK BRAND BOOSTER (12 WEEKS)

Sunday September 29 29

All Day 🔥 SPARK BRAND BOOSTER (12 WEEKS)

Monday August 19 – Friday November 8

12:00 am – 11:00 pm

🔥 SPARK BRAND BOOSTER (12 WEEKS)

Monday September 30 30

All Day 🔥 SPARK BRAND BOOSTER (12 WEEKS)

Monday August 19 – Friday November 8

12:00 am – 11:00 pm

🔥 SPARK BRAND BOOSTER (12 WEEKS)

2:00 pm – 3:00 pm ‼️ Free Brand Coaching
3:00 pm – 4:00 pm 🔴 Branding Room
October 2024
Monday
Tuesday
Wednesday
Thursday
Friday
Saturday
Sunday

Tuesday October 1 1

All Day 🔥 SPARK BRAND BOOSTER (12 WEEKS)

Monday August 19 – Friday November 8

12:00 am – 11:00 pm

🔥 SPARK BRAND BOOSTER (12 WEEKS)

3:00 pm – 4:00 pm 🟢 Marketing Room

Wednesday October 2 2

All Day 🔥 SPARK BRAND BOOSTER (12 WEEKS)

Monday August 19 – Friday November 8

12:00 am – 11:00 pm

🔥 SPARK BRAND BOOSTER (12 WEEKS)

Thursday October 3 3

All Day 🔥 SPARK BRAND BOOSTER (12 WEEKS)

Monday August 19 – Friday November 8

12:00 am – 11:00 pm

🔥 SPARK BRAND BOOSTER (12 WEEKS)

3:00 pm – 4:00 pm 🔵 Business Room

Friday October 4 4

All Day 🔥 SPARK BRAND BOOSTER (12 WEEKS)

Monday August 19 – Friday November 8

12:00 am – 11:00 pm

🔥 SPARK BRAND BOOSTER (12 WEEKS)

3:00 pm – 4:00 pm 🟣 Ideation Room

Saturday October 5 5

All Day 🔥 SPARK BRAND BOOSTER (12 WEEKS)

Monday August 19 – Friday November 8

12:00 am – 11:00 pm

🔥 SPARK BRAND BOOSTER (12 WEEKS)

Sunday October 6 6

All Day 🔥 SPARK BRAND BOOSTER (12 WEEKS)

Monday August 19 – Friday November 8

12:00 am – 11:00 pm

🔥 SPARK BRAND BOOSTER (12 WEEKS)

Monday October 7 7

All Day 🔥 SPARK BRAND BOOSTER (12 WEEKS)

Monday August 19 – Friday November 8

12:00 am – 11:00 pm

🔥 SPARK BRAND BOOSTER (12 WEEKS)

2:00 pm – 3:00 pm ‼️ Free Brand Coaching
3:00 pm – 4:00 pm 🔴 Branding Room

Tuesday October 8 8

All Day 🔥 SPARK BRAND BOOSTER (12 WEEKS)

Monday August 19 – Friday November 8

12:00 am – 11:00 pm

🔥 SPARK BRAND BOOSTER (12 WEEKS)

3:00 pm – 4:00 pm 🟢 Marketing Room

Wednesday October 9 9

All Day 🔥 SPARK BRAND BOOSTER (12 WEEKS)

Monday August 19 – Friday November 8

12:00 am – 11:00 pm

🔥 SPARK BRAND BOOSTER (12 WEEKS)

Thursday October 10 10

All Day 🔥 SPARK BRAND BOOSTER (12 WEEKS)

Monday August 19 – Friday November 8

12:00 am – 11:00 pm

🔥 SPARK BRAND BOOSTER (12 WEEKS)

3:00 pm – 4:00 pm 🔵 Business Room

Friday October 11 11

All Day 🔥 SPARK BRAND BOOSTER (12 WEEKS)

Monday August 19 – Friday November 8

12:00 am – 11:00 pm

🔥 SPARK BRAND BOOSTER (12 WEEKS)

3:00 pm – 4:00 pm BRAND REFRESHER for SMEs
3:00 pm – 4:00 pm 🟣 Ideation Room

Saturday October 12 12

All Day 🔥 SPARK BRAND BOOSTER (12 WEEKS)

Monday August 19 – Friday November 8

12:00 am – 11:00 pm

🔥 SPARK BRAND BOOSTER (12 WEEKS)

Sunday October 13 13

All Day 🔥 SPARK BRAND BOOSTER (12 WEEKS)

Monday August 19 – Friday November 8

12:00 am – 11:00 pm

🔥 SPARK BRAND BOOSTER (12 WEEKS)

Monday October 14 14

All Day 🔥 SPARK BRAND BOOSTER (12 WEEKS)

Monday August 19 – Friday November 8

12:00 am – 11:00 pm

🔥 SPARK BRAND BOOSTER (12 WEEKS)

2:00 pm – 3:00 pm ‼️ Free Brand Coaching
3:00 pm – 4:00 pm 🔴 Branding Room

Tuesday October 15 15

All Day 🔥 SPARK BRAND BOOSTER (12 WEEKS)

Monday August 19 – Friday November 8

12:00 am – 11:00 pm

🔥 SPARK BRAND BOOSTER (12 WEEKS)

3:00 pm – 4:00 pm 🟢 Marketing Room

Wednesday October 16 16

All Day 🔥 SPARK BRAND BOOSTER (12 WEEKS)

Monday August 19 – Friday November 8

12:00 am – 11:00 pm

🔥 SPARK BRAND BOOSTER (12 WEEKS)

Thursday October 17 17

All Day 🔥 SPARK BRAND BOOSTER (12 WEEKS)

Monday August 19 – Friday November 8

12:00 am – 11:00 pm

🔥 SPARK BRAND BOOSTER (12 WEEKS)

3:00 pm – 4:00 pm 🔵 Business Room

Friday October 18 18

All Day 🔥 SPARK BRAND BOOSTER (12 WEEKS)

Monday August 19 – Friday November 8

12:00 am – 11:00 pm

🔥 SPARK BRAND BOOSTER (12 WEEKS)

3:00 pm – 4:00 pm 🟣 Ideation Room

Saturday October 19 19

All Day 🔥 SPARK BRAND BOOSTER (12 WEEKS)

Monday August 19 – Friday November 8

12:00 am – 11:00 pm

🔥 SPARK BRAND BOOSTER (12 WEEKS)

Sunday October 20 20

All Day 🔥 SPARK BRAND BOOSTER (12 WEEKS)

Monday August 19 – Friday November 8

12:00 am – 11:00 pm

🔥 SPARK BRAND BOOSTER (12 WEEKS)

Monday October 21 21

All Day 🔥 SPARK BRAND BOOSTER (12 WEEKS)

Monday August 19 – Friday November 8

12:00 am – 11:00 pm

🔥 SPARK BRAND BOOSTER (12 WEEKS)

2:00 pm – 3:00 pm ‼️ Free Brand Coaching
3:00 pm – 4:00 pm 🔴 Branding Room

Tuesday October 22 22

All Day 🔥 SPARK BRAND BOOSTER (12 WEEKS)

Monday August 19 – Friday November 8

12:00 am – 11:00 pm

🔥 SPARK BRAND BOOSTER (12 WEEKS)

3:00 pm – 4:00 pm 🟢 Marketing Room

Wednesday October 23 23

All Day 🔥 SPARK BRAND BOOSTER (12 WEEKS)

Monday August 19 – Friday November 8

12:00 am – 11:00 pm

🔥 SPARK BRAND BOOSTER (12 WEEKS)

Thursday October 24 24

All Day 🔥 SPARK BRAND BOOSTER (12 WEEKS)

Monday August 19 – Friday November 8

12:00 am – 11:00 pm

🔥 SPARK BRAND BOOSTER (12 WEEKS)

3:00 pm – 4:00 pm 🔵 Business Room

Friday October 25 25

All Day 🔥 SPARK BRAND BOOSTER (12 WEEKS)

Monday August 19 – Friday November 8

12:00 am – 11:00 pm

🔥 SPARK BRAND BOOSTER (12 WEEKS)

3:00 pm – 4:00 pm 🟣 Ideation Room

Saturday October 26 26

All Day 🔥 SPARK BRAND BOOSTER (12 WEEKS)

Monday August 19 – Friday November 8

12:00 am – 11:00 pm

🔥 SPARK BRAND BOOSTER (12 WEEKS)

Sunday October 27 27

All Day 🔥 SPARK BRAND BOOSTER (12 WEEKS)

Monday August 19 – Friday November 8

12:00 am – 11:00 pm

🔥 SPARK BRAND BOOSTER (12 WEEKS)

Monday October 28 28

All Day 🔥 SPARK BRAND BOOSTER (12 WEEKS)

Monday August 19 – Friday November 8

12:00 am – 11:00 pm

🔥 SPARK BRAND BOOSTER (12 WEEKS)

2:00 pm – 3:00 pm ‼️ Free Brand Coaching
3:00 pm – 4:00 pm 🔴 Branding Room

Tuesday October 29 29

All Day 🔥 SPARK BRAND BOOSTER (12 WEEKS)

Monday August 19 – Friday November 8

12:00 am – 11:00 pm

🔥 SPARK BRAND BOOSTER (12 WEEKS)

3:00 pm – 4:00 pm 🟢 Marketing Room

Wednesday October 30 30

All Day 🔥 SPARK BRAND BOOSTER (12 WEEKS)

Monday August 19 – Friday November 8

12:00 am – 11:00 pm

🔥 SPARK BRAND BOOSTER (12 WEEKS)

Thursday October 31 31

All Day 🔥 SPARK BRAND BOOSTER (12 WEEKS)

Monday August 19 – Friday November 8

12:00 am – 11:00 pm

🔥 SPARK BRAND BOOSTER (12 WEEKS)

3:00 pm – 4:00 pm 🔵 Business Room
November 2024
Monday
Tuesday
Wednesday
Thursday
Friday
Saturday
Sunday

Friday November 1 1

All Day 🔥 SPARK BRAND BOOSTER (12 WEEKS)

Monday August 19 – Friday November 8

12:00 am – 11:00 pm

🔥 SPARK BRAND BOOSTER (12 WEEKS)

3:00 pm – 4:00 pm 🟣 Ideation Room

Saturday November 2 2

All Day 🔥 SPARK BRAND BOOSTER (12 WEEKS)

Monday August 19 – Friday November 8

12:00 am – 11:00 pm

🔥 SPARK BRAND BOOSTER (12 WEEKS)

Sunday November 3 3

All Day 🔥 SPARK BRAND BOOSTER (12 WEEKS)

Monday August 19 – Friday November 8

12:00 am – 11:00 pm

🔥 SPARK BRAND BOOSTER (12 WEEKS)

Monday November 4 4

All Day 🔥 SPARK BRAND BOOSTER (12 WEEKS)

Monday August 19 – Friday November 8

12:00 am – 11:00 pm

🔥 SPARK BRAND BOOSTER (12 WEEKS)

2:00 pm – 3:00 pm ‼️ Free Brand Coaching
3:00 pm – 4:00 pm 🔴 Branding Room

Tuesday November 5 5

All Day 🔥 SPARK BRAND BOOSTER (12 WEEKS)

Monday August 19 – Friday November 8

12:00 am – 11:00 pm

🔥 SPARK BRAND BOOSTER (12 WEEKS)

3:00 pm – 4:00 pm 🟢 Marketing Room

Wednesday November 6 6

All Day 🔥 SPARK BRAND BOOSTER (12 WEEKS)

Monday August 19 – Friday November 8

12:00 am – 11:00 pm

🔥 SPARK BRAND BOOSTER (12 WEEKS)

Thursday November 7 7

All Day 🔥 SPARK BRAND BOOSTER (12 WEEKS)

Monday August 19 – Friday November 8

12:00 am – 11:00 pm

🔥 SPARK BRAND BOOSTER (12 WEEKS)

3:00 pm – 4:00 pm 🔵 Business Room

Friday November 8 8

All Day 🔥 SPARK BRAND BOOSTER (12 WEEKS)

Monday August 19 – Friday November 8

12:00 am – 11:00 pm

🔥 SPARK BRAND BOOSTER (12 WEEKS)

3:00 pm – 4:00 pm 🟣 Ideation Room

Saturday November 9 9

Sunday November 10 10

Monday November 11 11

2:00 pm – 3:00 pm ‼️ Free Brand Coaching
3:00 pm – 4:00 pm 🔴 Branding Room

Tuesday November 12 12

3:00 pm – 4:00 pm 🟢 Marketing Room

Wednesday November 13 13

Thursday November 14 14

3:00 pm – 4:00 pm 🔵 Business Room

Friday November 15 15

3:00 pm – 4:00 pm 🟣 Ideation Room

Saturday November 16 16

Sunday November 17 17

Monday November 18 18

2:00 pm – 3:00 pm ‼️ Free Brand Coaching
3:00 pm – 4:00 pm 🔴 Branding Room

Tuesday November 19 19

3:00 pm – 4:00 pm 🟢 Marketing Room

Wednesday November 20 20

Thursday November 21 21

3:00 pm – 4:00 pm 🔵 Business Room

Friday November 22 22

3:00 pm – 4:00 pm BRAND REFRESHER for SMEs
3:00 pm – 4:00 pm 🟣 Ideation Room

Saturday November 23 23

Sunday November 24 24

Monday November 25 25

All Day 🔥 SPARK BRAND BOOSTER (12 WEEKS)

Monday November 25 – Friday February 14

12:00 am – 11:00 pm

🔥 SPARK BRAND BOOSTER (12 WEEKS)

2:00 pm – 3:00 pm ‼️ Free Brand Coaching
3:00 pm – 4:00 pm 🔴 Branding Room

Tuesday November 26 26

All Day 🔥 SPARK BRAND BOOSTER (12 WEEKS)

Monday November 25 – Friday February 14

12:00 am – 11:00 pm

🔥 SPARK BRAND BOOSTER (12 WEEKS)

3:00 pm – 4:00 pm 🟢 Marketing Room

Wednesday November 27 27

All Day 🔥 SPARK BRAND BOOSTER (12 WEEKS)

Monday November 25 – Friday February 14

12:00 am – 11:00 pm

🔥 SPARK BRAND BOOSTER (12 WEEKS)

Thursday November 28 28

All Day 🔥 SPARK BRAND BOOSTER (12 WEEKS)

Monday November 25 – Friday February 14

12:00 am – 11:00 pm

🔥 SPARK BRAND BOOSTER (12 WEEKS)

3:00 pm – 4:00 pm 🔵 Business Room

Friday November 29 29

All Day 🔥 SPARK BRAND BOOSTER (12 WEEKS)

Monday November 25 – Friday February 14

12:00 am – 11:00 pm

🔥 SPARK BRAND BOOSTER (12 WEEKS)

3:00 pm – 4:00 pm 🟣 Ideation Room

Saturday November 30 30

All Day 🔥 SPARK BRAND BOOSTER (12 WEEKS)

Monday November 25 – Friday February 14

12:00 am – 11:00 pm

🔥 SPARK BRAND BOOSTER (12 WEEKS)
Book a Free
Brand Session
Webinar
Every Monday: Free Elevate Your Brand Session
Bonus Webinars:
21/11/23 – Brand 101

08/12/23 – Marketing for 2024

15/12/23 – Brand Refresher for SMEs

09/01/24 – ICYMI – Marketing for 2024 (Live, not replay)